I have always loved puzzles but I have never really had a good place to spread out and put together a jigsaw puzzle of any size. Kids will have that effect on your life, I guess. So I generally tend to stick to online puzzles, where the kids can't eat or otherwise lose any pieces. So naturally I was pleased when I was asked to review
Daily Bible Jigsaw
, an app from
Planet 316
.
This app can currently be played at
I played it on Facebook, because that is where I generally play games. It was nice to have options to consider though.
Set up was easy, and I was given 500 coins to facilitate the review. The coins cost real money:
$39.99 for 500
$19.99 for 250
$9.99 for 115
$4.99 for 55
The jigsaw puzzles are lovely pictures of nature or adorable pictures of animals (my kids sure loved those!) and they are all matched with an uplifting Scripture verse.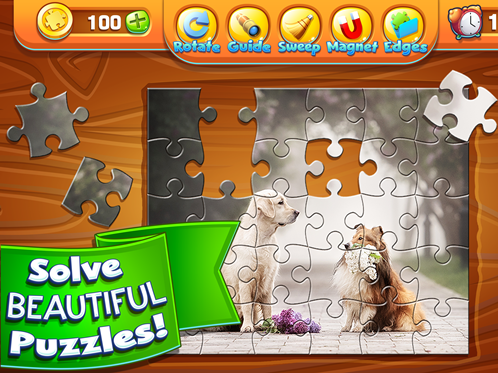 You are given one free puzzle each day. All other puzzles cost you three coins. You can solve any past puzzle, even all the way back to last September. And you can replay any puzzle you have solved. (In case you want to try to beat your time...)
The puzzles are timed, and, since I was playing on Facebook, I could compare my times with friends who are already playing as well as challenge other friends to beat my times. I could also share my finished puzzles on my timeline. (I was kinda hoping this would earn me some coins, but it didn't. ... It should.)
There are "cheats" available, which you can see in the above screenshot, all pretty self explanatory. These cheats all cost coins, so I chose not to use them. (I have a lot of Scots ancestors, what can I say.) Besides, if it's too easy, where's the fun?
Speaking of which, I really liked that these puzzles require you to rotate the pieces. It makes it more of a challenge when you don't know which way they are supposed to go, just like in a real puzzle.
Another thing I liked was that you could earn coins in different ways:
solving a certain number of puzzles
solving a puzzle in less than 5, 2 or 1 minute (I haven't made it in under 2 minutes yet)
solving a certain number of puzzles from each day of the week
finding a connecting piece to a specific piece within a timeframe (this is offered each puzzle and earns you a coin, so once you get good at this, your puzzles really only cost you 2 coins)
And there are some bonus puzzles as well.
I have greatly enjoyed solving the lovely puzzles on
Daily Bible Jigsaw
. The only thing I would change is to be able to choose the number of pieces you receive. This was the perfect amount of pieces for my kids, but as I said before, I love a challenge and having more pieces to work with would make it harder. So it would be great if we could each chose the number we wanted for each puzzle.