Around here, we are big readers. Well, most of us are. A couple of us still need a little encouragement to become bookworms. That's why I was pleased to be asked to review the brand new offering from
Apologia Educational Ministries
, their "read to learn" program:
Readers in Residence Volume 1 (Sleuth) Full Set
.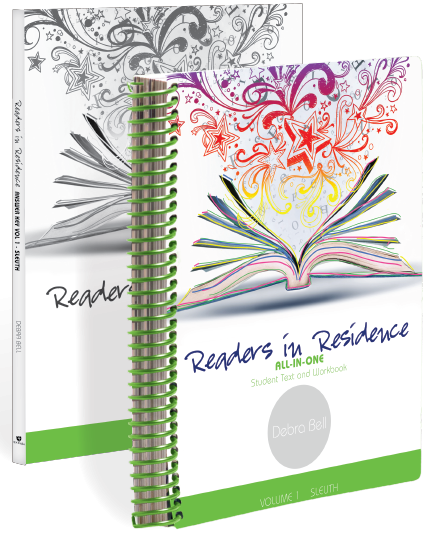 Readers in Residence consists of two books. One is the answer key. This book contains grading rubrics, twenty-six pages of instruction to the teacher on how to use the program (including adapting the program to include siblings of different ages and adapting it to use in a co-op setting) and all of the answers to the questions in the student's book.
The Student Text and Workbook is a huge, spiral-bound, consumable book written directly to the student. It is seriously huge, but you have to take into account that it is meant to take you 32 weeks to complete it.
The aim of the program is to read and study three genres of fiction, build vocabulary, use skills to increase reading comprehension, complete projects and share what the student as learned through book clubs and discussions.
The program is divided into six units with a different book for each unit. Three of the books are student's (or teacher's) choice and the other three are:
Sarah, Plain and Tall
Charlotte's Web
Because of Winn-Dixie
The three student's choice or "On your own" books are chosen from the following categories:
Historical fiction
Animal Fantasy
any genre of fiction you like
There are half a dozen suggestions for each category.
The books are not a part of the package, you need to purchase those on your own.
The book starts with a suggested daily schedule based on a four day week, which we found most doable.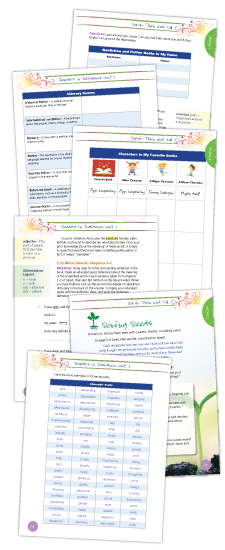 The workbook is consumable and cannot be copied, so I had to decide which child to use this with. It is intended for use by children in the fourth grade and up. I have a fourth grader and a fifth grader, both of which were late and slow to read, but my fourth grader has already made the plunge into reading for the fun of it, and my fifth grader has not, so I chose him.
For the purpose of this review, we stuck pretty closely to the schedule and just followed the instructions in the workbook. We did not, however, start a book club as he and his little sister are already in a book club that we love very much.
I loved that this was an open and go curriculum. There was zero prep, and in theory, I could hand it to my student and let them have at it because all the instructions (even when to read each portion of the go-along books) are right there in the workbook. For my son, though, it was a lot of informational reading, so I read it aloud to him and then we worked through the answers together. The amount of writing was not an issue for him, but sometimes the lines given for him to use were not enough. We overcame this issue in several different ways, depending on the day. Sometimes I would have him start on the page and then finish his answer on extra paper. Sometimes I would just let him answer orally. Sometimes I would scribe for him.
He enjoyed working with me and I got few complaints even though he was doing his absolute least favorite subject. He doesn't really struggle with vocabulary and comprehension, but my goal with
Readers in Residence
is that he understands the beauty and the art behind literature. I want him to love reading and I am hoping this will give him that. So far, so good.
So many literature programs use questions that are vague and analytical but I appreciated that Readers in Residence uses much more practical and concrete questions that did not cause my mathematically inclined boy to roll his eyes and sigh. He enjoyed the fact that there were right and wrong answers to the questions.
Some of the work (capitalization and punctuation) was a little below his ability, but we just skipped the bits he did not need to work on and it was no big deal.
All in all, we highly recommend
Readers in Residence Volume 1 (Sleuth) Full Set
for both bookworms and reluctant readers alike. But don't just take our word for it, you can see
free samples
and
read the FAQ
for yourself. You can also click on the banner below to see what other Crew members think!