I am a literary snob. So it was a shock and a disappointment to me when I realized my kids love comic books. They call them "graphic novels" as though that makes it better and they use their precious library card space to check them out from the library. It boggles my mind.
Thankfully, they don't care for the "dark" comics, but I still worry a bit about what all they might be exposed to as they read. So I was happy to be asked to review a comic book from Focus On The Family. And my kids were thrilled to get a chance to devour Captain Absolutely. It was a win/win for us.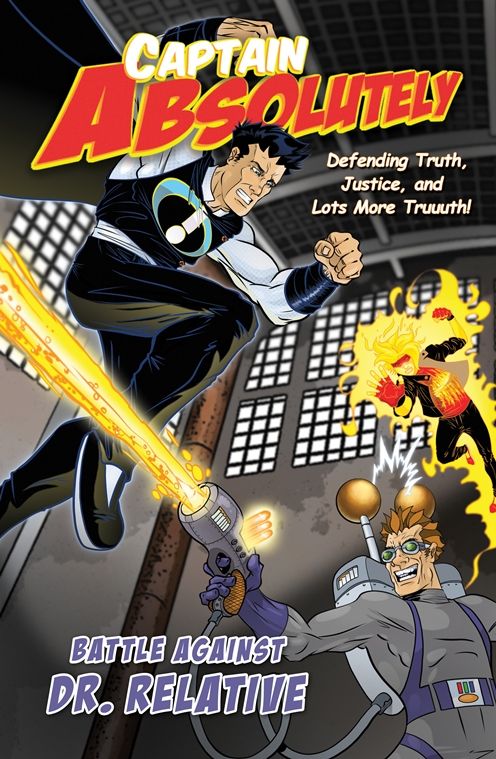 I have known and loved Focus On The Family products for many years. I used to listen to Adventures in Odyssey over twenty years ago. It was a blast from the past to see that a citizen of the imaginary town of Odyssey, USA had developed a superhero.
Wooton Z. Bassett (helped out by some real life people) wrote Captain Absolutely as a serial for Clubhouse Magazine. And now those comics are compiled in one thick, 100+ page book for your reading pleasure.
Soft-cover, with glossy, full-color pages, the comic book tells the story of how Josiah King and Darren Gray meet up with a fateful accident one night in the library. A combination of two friends, a sunflower seed, nuclear power, and one "spectacular explosion" simultaneously creates a superhero and a bad guy. Josiah is trapped in a room full of Bibles and toxic fumes and becomes "Captain Absolutely! Defender of Truth, Justice and Lots More Truuuuuth!" Meanwhile Darren is trapped in another room with philosophy books and toxic fumes. He becomes the evil villain, Dr. Relative.
After he "survives his origin story" Captain Absolutely goes on to fight Dr. Relative and many more villains: Farmer Vile; Cap'n Crastin; Baron Von Confuser; Edward Snooze; Sloppy Joe and others who threaten Metropolitanville with fear, unforgiveness, confusion, and, of course, relativism. He fights, not with violence, but with Scripture and Biblical truth. Scripture references are sprinkled throughout the story so your kids can look them up and see what the Bible says for themselves.
Humor, in the form of puns and silly jokes is also sprinkled quite liberally throughout the story. The kind of humor that made my kids and I both laugh even while rolling our eyes a little bit. The kind of humor that every kid eats up with a spoon.
In the back of the book is a list of the cast of characters (including his teenage side kick, Hana Lin). Each character has a short bio, and a list of "stats", including their worldview, biggest problem, and a Bible verse.
And finally, the book has two pages of Big Questions, or discussion starters you can use with your kids to get them to delve a little deeper than the fun and the humor.
In spite of this being a comic book I was happy to have a chance to review Captain Absolutely. As I said, my love of Focus On The Family goes way back and it's great to be able to hand my kids a medium that they love without any concern on my part. Although the humor was a little cheesy, it was not the dumbed-down holier-than-thou fare that Christian reading consisted of when I was a kid.
I also liked the tie-in with King Josiah and the story of him finding the lost book of the law (the first five books of what we now call the Bible) in the temple. He wept and repented and promised to follow the law from then on. And he did! He became a sort of Captain Absolutely by destroying idols, eliminating corruption and rescuing kids from being sacrificed!
All four of my kids devoured this comic with zero prodding on my part. Since they are comic book experts, I thought I would give you their opinions.
Kaytie:
I enjoyed reading Captain Absolutely. I liked the basic theme of it: Truth. God's Truth. It was a little too fast paced for me because I like more in-depth stories. But it was very funny. I kind of liked the style and the way the stories were set up. I liked the method he used to introduce the villain, and I liked the way the characters themselves were constructed and developed as far as the writing is concerned. I would like to read more books like this!
Nate:
I liked the story. It's like a normal comic book but modified to reflect a Christian basis. I think it is a quality book and I would love to read more. When I got to the end I was like, "Is it over already?"
Daniel:
I liked it because it was a good comic book. It has a good story line. I liked that Captain Absolutely quoted a lot of Scripture. It was really funny. My favorite part is where the bad guy holds up the mirror and Captain Absolutely pretends he sees the future and then takes the mirror away! That was funny!
Abbie:
I liked it because it was a comic book. It was different because usually in comic books people don't read the Bible. I liked that the Bible was a part of the story. It was funny in parts. My favorite character was Hana, the sidekick. I think any kid who likes comic books will like Captain Absolutely. And I would love to read more! The only thing I disliked about it was that it was too short!
So there you have it. We "absolutely" loved Captain Absolutely and "absolutely" recommend it!