It amazes me that my oldest child is looking high school squarely in the face. She even has already gotten some credits under her belt. This is the child that loves to write, but only stories. She thinks reports and essays are boring, so she tends to forget to do them. I, on the other hand, realize that this boring type of writing is actually the necessary type of writing, so I was pleased to discover that
Institute for Excellence in Writing
(IEW) offers a program for learning to write essays:
High School Essay Intensive
.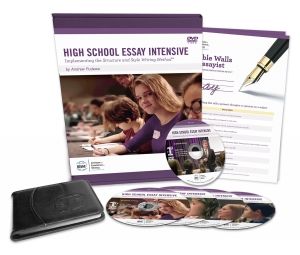 This program consists of DVDs (this content is also available for online streaming), a portable wall, and a student packet.
The portable wall offers the student easy access to:
types of essays
essay models
essay writing process
essay writing strategies
sentence pattern variety
specific models
transitional words and phrases
prepositions
It also has a pocket for holding the student packet.
The student packet is twenty-five pages. It is simply papers stapled together and is for the student to use to take notes on as they watch the DVD. The copy write allows for you to reuse these sheets for additional students within your own family, but not to share with other families or to copy them for an entire class.
The bulk of the program is contained in the DVDs. There are five of them and they come in a handy black, leather holder.
The first two DVDs are part one and contain:
General Strategies for Essay Writing: length; structure; invention and style
The second part is
Understanding and Preparing for the New ACT Essay
The third part is Understanding and Preparing for the Redesigned SAT Essay
The last part is
Strategies for the Personal Essay
The different parts do not have to be done in any particular order, you are free to choose the part (or parts) that will benefit your particular student.
For the purpose of this review, I had my daughter (age 14 and just finishing up 8th grade) work on part one: General Strategies for Essay Writing.
This was very simple for her. She watched the DVD, notes in hand, and just followed the instructions from there. Pausing the DVD, writing out the assignments and then watching again. The course is taught by Andrew Pudewa, a very engaging instructor. My kids think he is funny, which makes them want to listen to him.
She learned about the general types of essays, the types of paragraphs and how to organize them, what the TRIAC outline is and how to use one, and figures of speech.
Kaytie said:
I learned why essays are important. I think the most important thing I learned was how to gather subtopics for your essay and how to organize my thoughts. I found out that I liked doing the prep work for essays. The white boards were hard for me to read what he wrote on them. Otherwise, he held my interest well. I feel like I learned a lot. I liked having the notes there because I'm not used to taking notes and this helped. I really enjoyed the Portable Wall as well, it was nice to have the helps there whenever I needed them.
I always enjoy using Institute for Excellence in Writing materials and this one was no exception. I feel like she learned a lot about essay writing in general. In the near future, I will have her use this to learn to write her SAT and ACT essays. I am looking forward to using this with all my kids.