My kids love to paint. Well, three of them do anyway. But while I love to see them create, I'm not always fond of the mess that follows. You know what I'm talking about... the drippy paint brushes, the cups of weirdly colored water, the dribbles of paint on the table, the dabs of paint their faces, the smeared hands, the tattered old table cloth that holds more impressionistic art than most museums. Not stuff that most moms greet with excitement.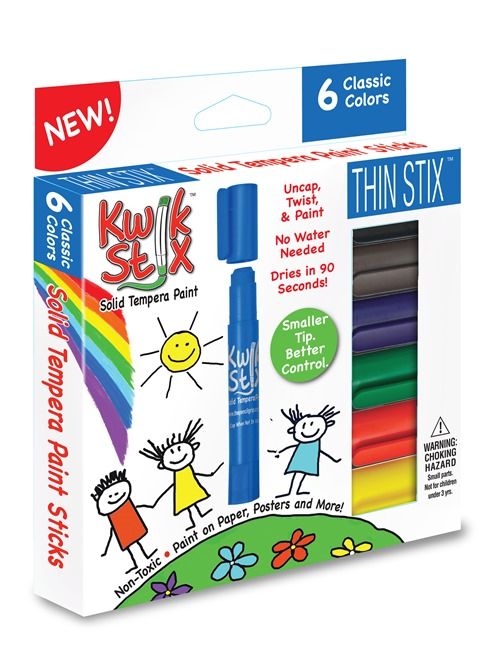 That's why I love reviewing for The Pencil Grip, Inc. This time we got a pack of Thin Stix 6pk of Classic Colors and the kids set right to work making masterpieces.
Kiwk Stix are markers that contain non-toxic tempera paint. Our set, the Thin Stix 6 pack, has six markers in the colors of green, brown, red, black, blue and yellow. Just pull of the cap, twist up the tube of paint and create! The color glides on smoothly and dries in ninety seconds leaving behind a brilliant color.
We have reviewed the basic set: Kwik Stix 12 pack before and have found the Thin Stix to be the same fabulous product except with a finer point that made drawing details much easier to do. Kaytie (age 14) could even write with them and achieve pleasing results. Since the inability to put in fine details was one of our frustrations in our initial review, we were very happy to see that this was true!
Here's a comparison of the two markers. The Thin Stix is on the right.
The beauty of these paint sticks is that your child has no need of a paintbrush or cup of water. They work like a marker. You just take the cap off and draw away! It dries almost instantly but the finished work has the texture of a painting, not a drawing.
While your child still needs some exposure to and experience with old-fashioned brushes, Thin Stix are perfect for for times when your child wants to paint and you don't have the time or energy to deal with the mess.
All of my kids, from age 14 to the 3 year old we babysit have a great time painting with Thin Stix. We mixed ours with our basic set and had lots of fun!
A warning... we had no problems with wiping the paint off the table and chairs. We did learn, however, that a toddler can absolutely NOT be trusted with Thin Stix on his own. Yes, he can still make quite a mess if you aren't in the room to stop him. On the plus side, the paint came out of his shirt quite nicely in the washing machine.
Langston's picture (age 3):
Abbie's picture (age 10):
Kaytie's picture (age 14):
Daniel's picture (age 11):
And I (age undisclosed) did our school mascot:
There are a few things that we noticed that I feel I should tell you about.
the paint really, truly does dry in 90 seconds
because of this, mess is not an issue, I touched my picture immediately after application and got nothing on my finger
because of this, it is easy and fun to layer colors over each other
however, because of this, you can not blend the paint
you also can't get a lighter application of color with less pressure, you get one shade only
lighter colors don't layer over darker colors well
unlike markers, the caps do not fit over the back end for easy storage while you work
In my opinion, Thin Stix are a great thing to have in your art cabinet! They are perfect for quick creative times. Older kids can use them entirely independently with fast and easy set-up and clean-up. Younger kids can get them out and put them away on their own and even the little kids can use them with only minimal supervision.
Kaytie: I like that they are easy to control and that they dry really fast. What I did notice while I was using them was that occasionally they would be gloppy, I would wind up with tiny, dry, blobs of paint on my painting. But I could actually rub for awhile and make it eventually go away so it was just kinda annoying. I think they are great for small children. And it's an interesting and fun medium for older children to work with as well. I would recommend it to any artist of any age.
Daniel: What I like about them is that it is much easier to control them and make finer details than with the regular ones.
Abbie: They are easy and fun to use and I only wish I had more colors.
Langston: I paint more, please?