One of our favorite things to review is a book. We love reading around here. So getting a review from YWAM Publishing is always great. We are also huge Narnia fans. Their dad read the books aloud to them when they were little kids and I remember making them green and yellow rings to play with. They loved them and spent weeks in the front yard with them, exploring "worlds". So we were especially delighted get an opportunity to read about the author of Narnia in the biography Christian Heroes - C. S. Lewis from the series Christian Heroes: Then and Now.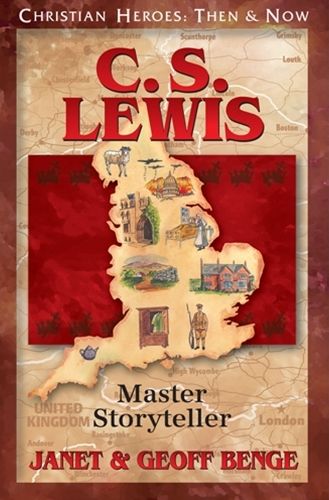 The book starts out with Lewis as a child and tells the story of his life: his childhood in Ireland; his boarding school days; his service in World War I where he was wounded; his friendship with Tolkien; his journey to faith; his career at Magdalen College; his journey as an author and how it led to his radio talks; his marriage; and finally, his last days.
I have long loved Lewis' works, and have read several biographies about him, but this was the most interesting one I have ever read. I even learned many things about him I didn't know before. For instance, he didn't have a driver's licence and he derived some inspiration for his stories from a favorite childhood author, E. Nesbit. Since I have also long loved Nesbit's magical stories, this was a really cool discovery!
Another thing I found fascinating was the argument that Tolkien used to convince Lewis to give Christianity a second chance. That myths are a groping toward and a reflection of God. That the writers of myths and legends were possibly "doing God's work" of drawing humans toward Him. I loved the conclusion that "Christianity is a true myth".
My fourteen year old daughter also read the book and had this to say:
Kaytie:
I liked the way it was written, it was engaging and made me want to read more once I started reading. I found out that he and his brother would take annual walks around the country, which I found rather interesting. I find it funny how he and Tolkien decided that since they couldn't find any of the things they liked in the fiction available at the time, they went and wrote their own.
In my opinion, this book is a quick read for teens and adults but, due to the subject matter, may be a little "dry" and unexciting for younger readers. I didn't even offer it to my ten and eleven year olds, but we will probably use it as a read aloud this summer.
Along with the book, we received a Study Guide to help us dig deeper into the story. This was a download in a zip file that I needed to extract. This then opens in my browser, but I do not actually need to be online to use it.
The Guide contains a short bio of Lewis. It also has links to interviews with the authors, bonus materials such as coloring pages and crossword puzzles and information about YWAM. But the main part of the Guide is a unit study.
The unit study is a PDF of material to help you round out the book if you want your child to do more than just read it. It is over 80 pages and contains:
discussion questions divided by chapter (answers are in the back)
Bible verses that relate to the biography for your child to memorize and/or explore
essay questions
creative writing prompts
projects such as dioramas, charts, and models
arts and crafts
field trip suggestions (and you don't even have to live in England!)
a social studies section that is divided into Places, Vocabulary, Geographical Characteristics and Conceptual Questions about geography
maps
related themes to explore
suggestions for a "culminating event" such as a teatime to close out your study
a bibliography

Kaytie and I read through the Guide but we spent most of our time on the discussion questions. I liked that they were divided by chapter so we could read and answer a bit at a time as we worked through the book. I also appreciated that there were answers in the end of the Guide!


She especially enjoyed using the maps to help her visualize where the events in the book took place. She is working on a few of the essay questions, although essays are not her favorite. And she picked out several of the books in the bibliography for further reading.


YWAM has many, many other books on Christian Heroes and Heroes of History. So if you aren't particularly interested in C. S. Lewis, I'm sure you can find plenty of others to learn about!