Today I am going to share with you my review of the workbook:
Internship for High School Credit
which is produced by
Apologia Educational Ministries
.
I come from a long line of well-educated people that might not necessarily have gotten that education in college. I do have a college degree, but have never actually worked in the field of my degree. While I have no problem with college education and, in fact, have told my kids they will be going to college, no, it's not optional, my husband and I are well aware that college is not for everybody. We have one kid in particular that could easily thrive in a career that doesn't require a degree.
We are also well aware that such careers are not readily, easily available to random people who just wander in off the street.
In addition, I firmly believe that high school kids should NOT be sitting at home with a textbook for eight hours a day. I have two rising freshmen and I intentionally weighted their coursework heavy on the front end. By the time they are in 11th and 12th grade, they will only be spending a few hours a day on their one or two credits they have left but will be spending the bulk of their time working, volunteering, or maybe even interning. This has always been the plan.
So I jumped at the chance to review Internship for High School Credit with an eye toward using it heavily in the next few years as all my kids advance through high school and launch their own specific careers.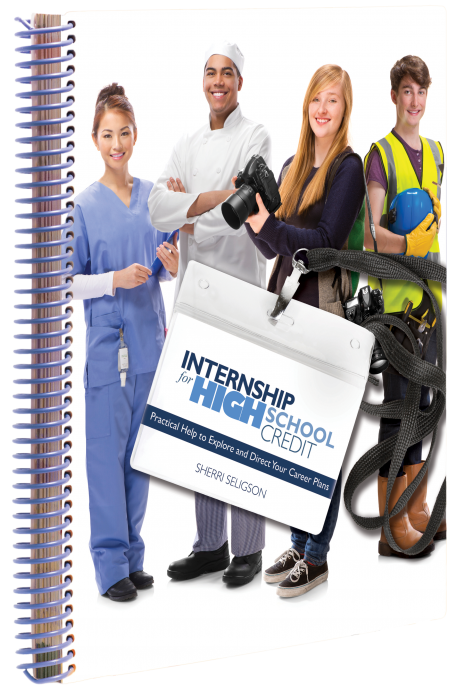 The fact that Internship for High School Credit is a product of Apologia, only made me more interested. I have long used Apologia products in our school and we love them. They have a commitment to quality and excellent that I admire. And they have a lot of different stuff to offer, as well!
Internship for High School Credit is a spiral-bound, soft-covered book that is consumable. Just shy of 100 pages, it is written directly to the student. After the introduction and a "how to use" section, the material is divided into five parts:
Getting Started
Information for Parents
First Semester
Second Semester
Course Wrap-Up
As you can see, this book will guide you through the whole process of how to be a high school intern. It helps you figure out what exactly you want to do, how to choose who you want to intern for, how to prepare for the job, how to earn and report the credit on your transcript, how to present yourself to your prospective employer, and even things I didn't think about, such as writing a resume.
The section for parents gives information and quick tips that you might not have thought of, such as child labor laws, the importance of maintaining a relationship with the employer since your teen is still a minor, and how to document and grade the experience.
The rest is worksheets for the student to fill out on a weekly basis, to help the teenager get the most out of the internship. These are for recording such things as goals, performance, skills gained and a chronicle of the work experience. There are questions and activities specifically for each week (spanning two semesters) with tips and inspirational quotes sprinkled throughout.
The wrap-up includes a final writing assignment, a thank you note, and tips on how to update your resume now that you have an internship to put on there!
I am very excited to use this with my kids! We have spent time the past few weeks reading over the material and brainstorming ideas of places they could intern that would boost their skills in their chosen professions. Even my ten-year-old is already making a list! With this book, we know what to do with that list and how to turn it into an amazing learning experience.
I believe this a valuable tool for me to successfully launch my kids, with or without a college education.
Click the banner below to see what other Crewmates thought about this product as well as another new Apologia product: How to Homeschool with Stunning Confidence, Contagious Joy, and Amazing Focus (DVD & Coursebook)