We are not required to teach health in our state, but I know that many of you are in yours. So today I want to tell you about a resource that can help you with that, at least on an elementary and/or middle school level. The kids and I have been reviewing the Homeschool Special from MarshMedia.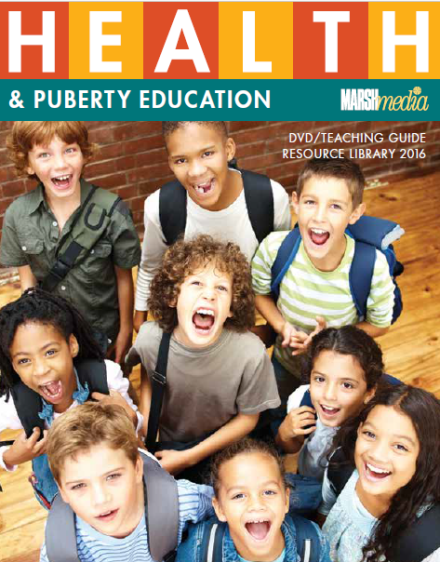 This product is a series of videos that you stream online. These videos cover a variety of health topics such as:
hygiene (head lice, handwashing, taking care of your eyes and ears, tooth brushing, skin and hair care)
puberty (boys and girls are on different videos)
safety (stranger danger, school shootings, internet safety)
nutrition
bullying
and there are even a variety offered just for special needs children
These videos are pretty short, approximately 15 minutes a piece. There are over 50 videos, so we definitely did not watch them all!
In order to watch the videos, we needed an account. Then we "purchased" each video we wanted to watch using a coupon code. Only it is really more of a rental, because the purchase expires after a couple days. However, the coupon code is reusable, so we could easily rent it again.
My kids are all between the ages of ten and fourteen, so it was a really good time for us to use these videos. These are topics that we have discussed plenty of times before, of course, but in a more scattered, organic way. I was pleased to have this systematic, scientific way of sharing health and nutrition information with my kids.
The first one we watched was about how to care for your teeth. For some reason, my kids struggle with caring about their teeth, so I thought this would be really great to start off with. On the one hand, it was pretty cheesy and "little-kidish". My teens did not watch it and my preteens rolled their eyes pretty hard. The three year old (we babysit him) was fascinated and absolutely loved every minute of it.
On the other hand, the kids did learn a lot about tooth care. They learned not only the "why" we need to take care of our teeth, but also some pretty good tips on "how" to do the job!
The nutrition video was pretty much the same. The kids thought it was too young for them but they did gain some valuable information.
The puberty videos were a different matter. They were age appropriate, tastefully done, and gave what I thought was good information in a matter-of-fact, scientific way. S-x [edited to keep icky search engines away from my site] itself was not discussed, but the s-x cells needed to create a baby were. There are full, frontal diagrams and other diagrams of the s-x organs. I previewed them before letting my children watch them, which is what I would advise you to do as well. But for my kids, they were simply informative videos and there was nothing embarrassing about them.
All in all, if you need or a want a health program for your elementary and/or preteen kids or even if you just want some good, informative videos for them to watch, I would recommend
MarshMedia
!
If you wish to take advantage of the opportunity to introduce the MarshMedia curriculum to your homeschooler(s) click on the link below for more information: