I have wanted to learn Latin since I was a child. My greatest disappointment in college was that there were no Latin classes offered! So it has been my goal to get my kids to learn Latin. I don't generally project my dreams onto them, but... Latin is such a great language to learn for so many reasons!
Anyway, so far they have resisted learning until now. Daniel finally expressed an interest in learning Latin so when we were asked to review
First Form Latin Complete Set
by
Memoria Press
, we jumped at the chance.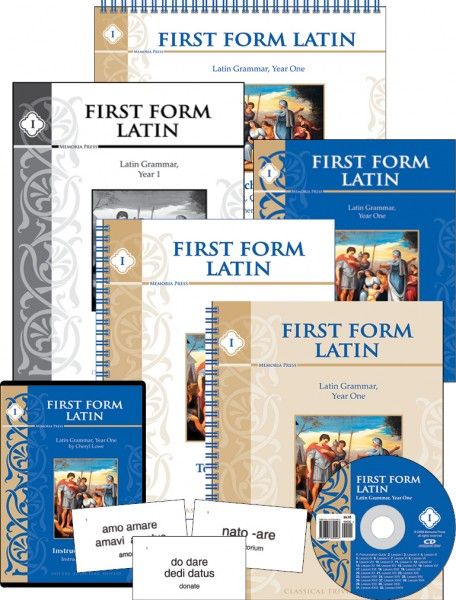 First Form Latin is intended for children in grades 4 - 9 who are beginning Latin students. The complete set comes with everything you need to teach your child and I mean everything! Well, we did have to throw in a pencil and a DVD player, but you know what I mean!
There are eight parts to the complete set. I will start with the Teacher Manual. It starts with a dozen pages explaining how the course works and how to set up a schedule. But after that it is mostly just the Student Text with answers and lesson plans. Because mostly, you are not teaching the class, you are facilitating and most of the teaching is done by the program. Even the lesson plans are scripts so you know exactly what needs to be said and exactly what you need to do. This is very helpful for those of us who don't already speak Latin fluently.
Most of the teaching is actually done through the three DVDs, which contain 34 lessons for your child to watch. These lessons are taught by Glen Moore. He has a good voice, an "easy to listen to" speaking style, and a sense of humor that make the videos engaging.
Next is the Workbook. This is a consumable book for your child to answer questions, diagram sentences in Latin and English, practice derivatives, drill forms, write out declensions and much more. It gives your student a place to practice what they are learning in the lessons. Workbook assignments are in the Teacher Manual.
The Quizzes and Tests book is also consumable. There are quizzes for every lesson, then every fifth lesson or so there is a full test. The pages are perforated so you can rip them out and them to your student one at a time.
The quizzes follow the basic pattern of vocabulary words, short answer, conjugating or declining, translating from English to Latin and from Latin to English. Sometimes there is a quote to write in Latin. And there are bonus questions. For instance, "
Give the principal parts of sum
".The quizzes are roughly two pages.
The tests are longer, because they are cumulative, but go over the same basic format. At the end, there is a final exam that is seven pages long.
The Teacher Key is spiral bound and in color. It has all the questions and answers for the quizzes, tests and the workbook. The questions are in black and the answers are in blue, so it is easy to distinguish between the two.
Next is the Student Text. This is a softcover blue book that holds the information in the lesson. This is copied exactly in the Teacher Manual with the lesson script around it, as you can see below.
Then there is a CD that has all the correct pronunciation for every vocabulary word and grammar form. They are divided by lesson so they are easy to find.
And finally, there is an enormous stack of flashcards to help with vocabulary, grammar forms and even the quotes.
In the Teacher Manual, as I mentioned before, is an explanation of how all these different parts work together. Once you have read through that, it is pretty easy to just follow the instructions in the lesson and go through all the steps with your student.
Since it is summer, and this kid is a little bit allergic to schoolwork, we took this at a slower pace than I think the program is intended. In other words, we did not do an entire lesson in one day. I did not want to burn my little guy out right at the start!
This is what we did. We watched the DVD first. Then we sat down together. (Sometimes right after the DVD but usually the next day, depending on how we felt. The DVDs weren't terribly long, though) I had the Teacher Manual, a white board and marker, and he had the Student Text, a notebook, the Workbook, and a pencil. And we worked our way through the lesson. Mostly we did it all in one sitting, but sometimes we didn't. I would stop when he started to get tired. He is my least academic child. I believe all of my other kids would have handled the entire lesson no problem.
My philosophy is that it doesn't matter how long it takes to learn as long as learning is accomplished.
The next day he would take the quiz for that lesson.
Each day, we would work through appropriate flashcards and listen to the Pronunciation Guide. He also liked to study the Student Text on his own until he knew it really well.
It was simple, quick and easy.
His response when I asked him how he liked it:
Can we do this for school? All of it? This is very interesting. I like it a lot!
So I added it to his list for the fall right away!
I like it, too. I like that it is all laid out for me and I don't have a lot of prep. I like that I don't have to know Latin to teach it. I like that it engages him on all levels: he speaks, he listens, he sees, he reads, he writes, he translates both Latin and English and English to Latin. But most of all, I like that he likes it and that FINALLY one of my kids will learn Latin!
Memoria Press offers many
different levels of Latin
as well as other classical curriculum such as
The Book of Trees
. Other crew members reviewed those so check them out by clicking on the banner below!