Do your kids love to craft/paint/create? Today I would like to share with you a fun product we used for an afternoon of mad creativity!
ACTIVA Products
sent us their
Rigid Wrap and CelluClay Quik-Sculpting Kit
to review. This kit contains two 4" rolls of Rigid Wrap plaster cloth, 8 oz of CelluClay and instructions for twelve projects.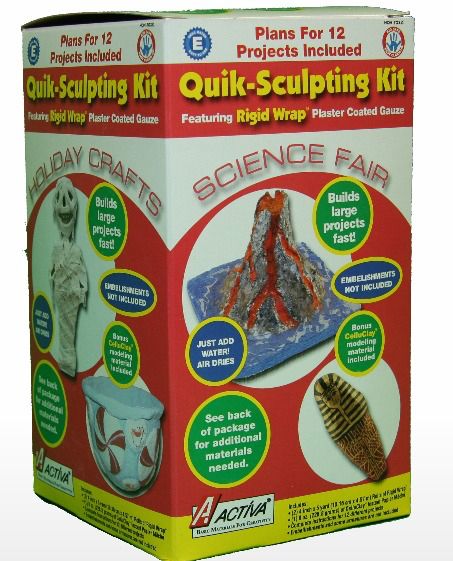 They also sent us a link to their free ebook
ACTIVA Products' Favorite Sculpture KIDS CRAFTS
which you can download for the low, low price of your email address.
Since it is summer, the biggest struggle for us in doing this review was to find a time when everyone was home and available to work! But finally, one afternoon, we were all there and got busy.
The first thing to do was to pick a project. With two rolls, we had enough Rigid Wrap for everyone to do their own.
The instruction sheets are black and white with small pictures and on ours, one of the pages was printed crooked and some of the instructions were off the edge of the page. The ebook came to our rescue, however, and all was well! This ebook is basically a copy of the instructions but in color with good pictures of each finished product. It contains a list of needed supplies and offers complete instructions with pictures of process and product. It also has the needed templates for a couple of the projects.
Some of us had to plan out our projects beforehand. Kaytie and Nate chose to freehand their designs while Abbie used a provided template for hers.
Daniel's project called for a balloon. Due to the raiding of the supply cupboard by small children, we had no balloons, so he improvised with an empty plastic container. Now he has a pumpkin that holds stuff.
Using the Rigid Wrap was easy. Cut, dip, apply, smooth, let dry.
The CelluClay was a bit more tricky. It isn't actually clay. It's powder and you need to add water in order to make it work. I exploded a big cloud of it in my lap and all over the floor. It took us awhile to find the directions for mixing it on the website. But after that it was all smooth sailing.
Once our projects were molded, we had to wait until they dried.
This took much longer than expected, so eventually, we took the short cut provided and stuck them in the microwave for a little bit.
Finally, it was time to paint!
Some of us couldn't wait until it was our turn with a paintbrush, nor be bothered to go find one of our own...
Our completed projects:
Abbie's butterfly/ fairy, a mix of Rigid Wrap and CelluClay.
Nate's totem pole, a mix of Rigid Wrap, CelluClay and taped-on feathers (courtesy of his brother).
Daniel's pumpkin container, Rigid Wrap all the way.
Kaytie's mask, Rigid Wrap and popsicle stick.
Make no mistake,
Rigid Wrap and CelluClay Quik-Sculpting Kit
is a messy project. The kids' hands were messy and the table and floor (especially after my escapade with the CelluClay) looked like it had snowed! However... it cleaned up super easy! It all wiped right off the table with a wet paper towel without any smearing or scrubbing. The powder on my clothes brushed right off. And the kids' hands washed up easily. Clean up literally took us minutes!
We really enjoyed working with this kit. It was a brand new art medium for us and we had lots of fun! Even my "I don't like art" kid had a good time and ended up with a product he was pleased with. And my other three are sold. They are planning projects that they can do on their own, without instructions, and having a good time creating them.
We highly recommend
Rigid Wrap and CelluClay Quik-Sculpting Kit
from
ACTIVA Products
.