The Crafty Classroom
sent us their
USA Activity Bundle
. This is a review product that my youngest daughter wanted to try out. She took one look and got excited.
The Crafty Classroom has a lot of printables for homeschooling families from kindergarten on up, on a variety of subjects like history, science, geography and crafts. They don't offer complete curriculum, but some wonderful supplements to add some delight to your school.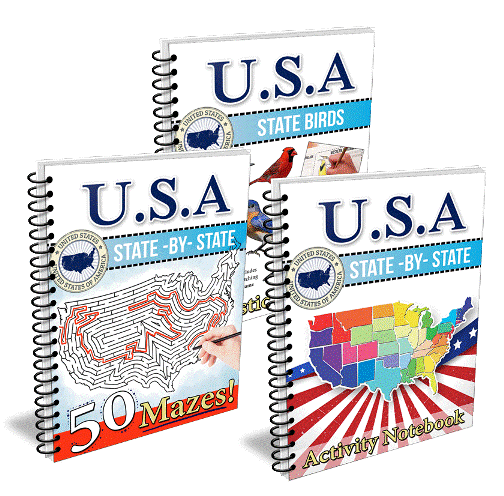 This bundle consists of three separate products: U.S.A. State by State Activity Notebook; U.S.A. State Bird Art Cards; and U.S.A. 50 State Mazes. These are all downloadable PDFs. I downloaded them as a zip file, extracted, and then printed as we went.
These three products work together wonderfully to help build your U.S. geography curriculum. I believe they would complement whatever you are using for your main program. Since it is summer, we didn't add it to anything. I let her chose the order of the order of the states and we went from there.
U.S.A. 50 State Mazes has a fun maze in the shape of each of the fifty states. These were simple, but still a tiny bit challenging for my ten year old.
This is New York. Yes, it's upside down. I kept telling her so but she would not believe me.
U.S.A. State Bird Art Cards is a collection of 28 birds because many of the states share a state bird. The picture below is not a very good representation. Despite many attempts, our printer refused to print all of these pages. Our printer is a jerk. The bird on the left is supposed to be in color. Below the uncolored bird are supposed to be lines for writing facts about the bird. And it is also supposed to tell you which states use this bird as their state bird. The tiny bird and the name at the bottom we used as a matching/ sort in the manner of Montessori 3 part cards.
The U.S.A. State by State Activity Notebook had a sheet like this for every state. This is where the bulk of her learning came in. I helped her find websites that showed her the colors and names of the state bird, flag, and flower. We also found websites that told her fun facts about the states so she could answer the questions on the sheets. The map of the state allowed her to find and record the capitol, important places and geographical features. There is also a map of the U.S. where she could mark the state.
She felt pretty grown up using the Internet to do her research!
I really liked the
USA Activity Bundle
! Even just playing around, she learned so much about each state! She thoroughly enjoyed the process and consistently asked to do more. This bundle is aimed for kids in 1-3 grade, but my 4th grader found it perfect for her and I'm sure my 5th grader would learn a lot from it as well!
This is intended for a supplement, but if you have a really good library or access to the Internet, you could pretty much use it on its own for no additional cost.
Abbie's Opinion:
I thought it was fun! I learned the state birds and fun facts about each state. I enjoyed coloring the birds and my favorite part was doing the mazes!
Other Crew members reviewed other products from
The Crafty Classroom
so click on the banner below to check those out!