We have been crazy busy this summer, but the kids and I have still managed to squeeze out some time to work on a few review products. We have been learning some Texas history with
Home School in the Woods
. This is one of my favorite places to get hands-on history products and we have been enjoying their
Make-a-State Activity
, which is a part of the
Activity-Paks
series.
This product is a quick download. It comes in a zipfile and after you extract the files you have PDFs, images, and an autorun button. The PDFs and images can also be found in the autorun section, it just gives you options in case you have troubles with your browser or just have different printing preferences. I generally just use the autorun, which pulls everything up, in order, on my browser and I just go from there. It keeps my brain organized because I am easily confused if there are a lot of different pieces.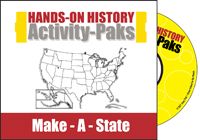 And Make-a-State has a lot of pieces! It is basically a lapbook that you can use to study any of the 50 states that you want, or all the states that you want! It is not a complete study because it does not contain the information that you need about the states. There is a page of info, but it is pretty brief. Texas had three paragraphs, a list of famous people, symbols, facts, and a few "on this date in history". So you do need to incorporate books, websites, and other materials to round out your study. However, with 20 projects to complete and a file folder game to play, it is a great foundation to start with!
The projects are:
1. Key State Facts
2. Origin of State Name
3. State Motto
4. State Symbols
5. State Song
6. State Industry / Agriculture / Climate
7. State Wildlife
8. Regions
9. State Geography
10. State Government
11. State Seal & Flag
12. State History
13. Famous People From...
14. Native Tribes
15. State Landmarks
16. Sports Teams
17. State Quarter
18. Recipes
19. State Vocabulary
20. State Timeline
BONUS #1: State Page for each state and Washington, D.C.
BONUS #2: "Name That State!" File Folder Game
These are either adaptable for each state, or there is one for each state. So you can chose to use this for one state study, like we did, or you can use this over and over for all the states. The only drawback is that if there is one for each state, there are multiple states on each page. So for us, just wanting Texas stuff, I did have to waste some ink printing off other state's quarters and flags and etc. This would not be a big deal if you were learning all fifty states, but I would have liked the option to just print Texas stuff.
One of the reasons I enjoy Home School in the Woods so much is that they make it so easy for me to use! I open the file, read the simple instructions, scroll, click and print and we are ready to go. I can choose the pieces that will work for my family and skip the ones that won't.
My kids are between the ages of 10 and 14, so we tend to ignore the more imaginative pieces and spend our time on the parts that require research, writing, thinking, and effort. But when they were younger, it was totally the other way around! That is another great thing about Home School in the Woods! They work great for any age and if you have a big family or a wide age spread, you can easily make it work for everyone.
My kids are not big into lapbooks, either, but that's okay. We still use the pieces to record the information that we discover and we then put those pieces into our history notebooks or a binder, or just hang them on our wall for awhile to enjoy.
So we focused on Texas, and learned about the native tribes, did some mapping, hunted down the key state facts, sang the state song, read some history, explored some biographies, and even learned about chicken fried steak, which my little Texans didn't even know existed, ha!
And now, they have another great offer...
A-La-Carte
projects! You can buy just an item or two to round out your history theme without having to buy the whole pack. And for a limited time, the Erie Canal is FREE for you! The code to use at checkout is alacarte. If you have never used Home School in the Woods before, it is a great way to start!