My kids like movies. And my girls really like to watch movies with me. I'm not much of a TV person, but I will, occasionally, watch something with the kids as a special treat. Especially the girls. So when we got the movie
Trust Fund
from
Mapelle Films
, the girls and I popped some popcorn, Kaytie brewed a cup of peppermint tea, and we settled in to enjoy it together.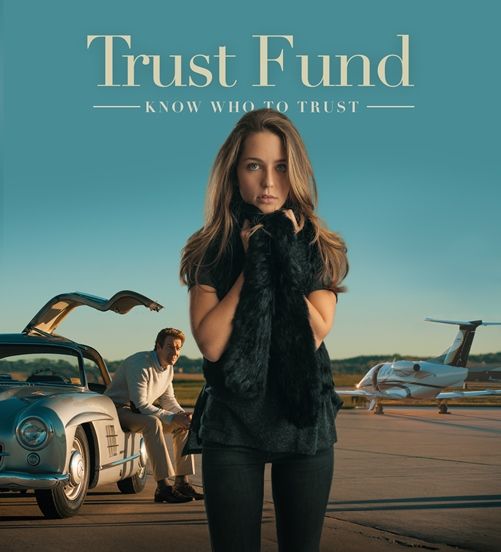 There is a companion book:
Love Was Near
that is meant for after the movie, so I will discuss that after I tell you about the movie.
Trust Fund
is the story of Reece, the youngest of two girls and the daughter of an influential publisher. Unlike Audrey, her dependable older sister, Reece is restless and unfocused. Although she is a gifted writer and is supposed to be writing a book that she has already been paid for, she spends her time blowing through her monthly allowance and borrowing money from her dad, Grayson. Right at the beginning of the story, she finds out that her mom (who passed away several years before in an accident) left her an inheritance of five million dollars. Grayson has been keeping this money a secret from the girls while insisting they learn independence and responsibility.
Instead, Reece sneaks the money and runs away to Italy with a cute guy (Milo) who she believes she is in love with. Unfortunately, the cute guy is not all he appears and he cons her out of her money for less than savory reasons and then tries to involve her in his schemes. Scared and broke, Reece runs back home where her father shows her true love and unconditional forgiveness.
This story is a retelling of the Biblical parable, The Prodigal Son. It has all the elements, the rebellious kid, the self righteous sibling, the unimaginably loving father. And we loved those parts. We felt the main characters (which also included a sweet, grandmotherly figure, Gloria) were well-developed and likable. That part of the story was great.
On the other hand, we felt the plot-line was a little convoluted and hard to follow. Extra characters appeared and disappeared with little introduction and we were often confused as to what exactly was going on. I think there were too many things going on that kind of clouded the main focus of the film.
One of the extras was a romantic add on. A guy named Sam who showed up unexpectedly and we finally figured out they had been friends for a long time and that he had been pursuing her for years. He also demonstrated unconditional love to Reece when he overlooked, without question or recrimination, the fact that he saw Milo kissing her.
On the positive side, though, this was a clean, wholesome movie with a positive message. There was no language or suggestiveness that made me cringe. Neither God nor the Bible were actually mentioned in the movie, although the message of love and forgiveness was loud and clear. After her unfortunate trip to Italy, Reece demonstrated remorse and repentance, accepting a previously scorned job at her father's company, completing her book for her publisher, and all around accepting responsibility for her actions, both past and present.
It is certainly a good movie to watch and discuss with your family, I feel safe recommending it for kids of all ages.
After we watched the movie, Kaytie and I read the book. It is recommended for girls ages 12 and up to follow up on the themes of the film.
Love Was Near
is a paperback book of a little over 200 pages. It is basically a retelling of the movie with insight about what Reece was thinking and feeling. It goes a little deeper than the movie and explores the themes more thoroughly.
It is part devotional, part story, part discussion questions on the movie. The story, told by Reece in first person, is mixed together with her diary entries. Also scattered throughout are photos from the movie and cute sketches that she draws in her diary.
At the end of each chapter are a couple of questions for you and your daughter to answer or discuss. For example,
"When you make mistakes, do you feel overwhelmed with the feeling that you are somehow flawed or inferior?"
"What happened today you don't want to forget? Remember, it only needs to feel special to you!"
"What if you chose to encourage someone, gave more compliments, and remembered to be grateful? What would it cost you? Tell someone you're thankful for something they did."
There is a place to write the answers to the questions, or you can just discuss, like we did. It might be fun to have two copies of the book so you can each write your answers and then get together to compare and discuss!
The companion book was our favorite part of this package. It's really true, the book is always better! haha! We felt it cleared up a lot of the questions we had about the movie, "Oh! So that's what was going on/ who that was/ what they were talking about/ why that was in the movie!"
As for the questions at the end of the chapter, Kaytie and I enjoyed discussing them together. We both read the story and are slowly working our way through the questions. It's a fun mother/daughter activity.
In short, the girls and I recommend this movie/book combo. The movie makes for a fun mother/daughter(s) evening with plenty of food for discussion afterwards.