I have to admit that I am a manipulative junkie. If there is a hands-on way to teach a concept and my kids will feel like they are learning by playing a game, then I am all-in. So I was absolutely interested to try
English on a Roll
from
English Grammar Teaching Method
.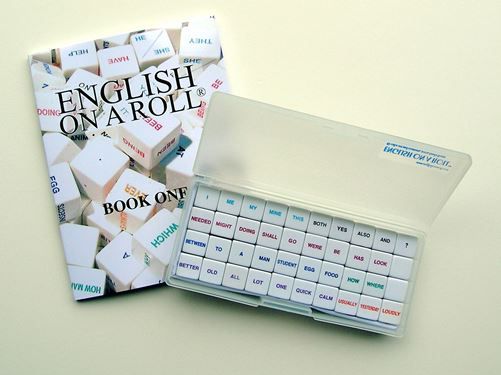 English on a Roll comes with a Teacher Manual and a box of forty color-coded cubes (two of which are blank) and a sheet of blank white stickers. The stickers and the blanks are to enable you to create custom cubes as you work through the lessons.
The Teacher Manual contains a cube guide that tells you the words on each cube as well as the color of the words, the function and the part of speech. There are four pages explaining the program, who it is intended for, how it works, and how to use it. There are thirty-seven lessons in Book One.
Each lesson is scripted and contains four parts:
prep
teach the concept
conversation/ games
written exercises

You are allowed to make copies of the worksheets as needed for your own class/family.

The prep was easy as it generally involved pulling out the correct cubes and making a quick copy of a worksheet if needed. Sometimes you need to customize a cube. Mostly the program is open and go.

English on a Roll was designed for teaching English as a second language and I can see how it would be absolutely perfect for that! But I can also see how it would be equally effective teaching language arts to English-speaking kids. We used it solely for grammar and learned so much!

I used English on a Roll with my younger two kids, ages ten and eleven. They have had one and two years of grammar instruction, respectively. But since all grammar programs are different, we started with the first lesson anyway. We worked quickly because a lot of the material was review for them, and what was new they were able to grasp easily.


We quickly discovered that we did need to add a white board to our materials for the course. But that was okay because we have plenty of them in our house!
We generally spent about five minutes on each lesson. I would read the script for teaching the concept. I did find myself adding to or adapting the script however, since it was written for non English speakers and I was using it to bolster grammar concepts.
I loved that the concepts were presented differently than what they were used to, so even though it felt like review, they were actually learning a lot of new information. For example, although they quickly grasped the idea of possessive pronouns, because they knew how to use them, they had never actually heard the term before. Now they can use them correctly and talk about them intelligently!
After I read through the lesson, we would play the games. There were generally two games per lesson. The games only took us a few minutes unless the kids particularly enjoyed them and wanted to play for awhile. Demonstrating prepositions was a fun one for them and we played it many, many times. They thought it was pretty funny to put their finger "in" their nose!
The games, although fun, are not competitive based and can be played alone if you are teaching only one child.
Since my kids are allergic to writing, we did the written exercises orally for the most part. Or I would show them the sheet and they would write the answers on the white board. This gives them incentive to write because they race each other to write down the correct answer first.
After the lesson (or lessons, because sometimes we would do several in one sitting), I would let them play with the cubes and make up their own sentences. Sometimes they would build one that didn't make any sense and we would discuss why that didn't work and how to fix it.
I recommend
English on a Roll
if you are looking for a fun, engaging way to teach Language Arts. Especially if your child loves manipulatives as much as I do! It can be used with young children because it is all hands-on. It also works well with adults and students with special needs.
If you want to know more about this program, check out the
video demo
.