Lapbooks can be a quick and easy way to introduce some fun into your learning. We don't use them all the time, but we love to throw one in every now and again just to add a little extra for my hands-on learners. So we were excited to get a chance to review The Greatest Inventors from A Journey Through Learning Lapbooks.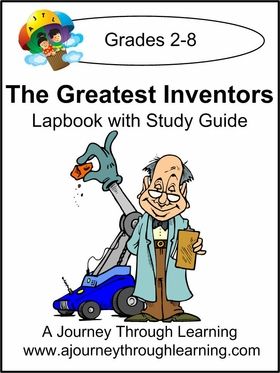 We have used A Journey Through Learning materials before, so we knew what to expect. We received a PDf download that contains all the study.
This particular study has 67 pages. It has complete instructions on how to put the lapbook together as well as a list of all the materials you will need. It gives you options on how to make the study quick and easy, or how to dig a little deeper on some, or even all, the topics presented.
There are eighteen different inventors covered in this study guide. They covered most of the famous ones but there are also several in there that were new to us.
Johannes Gutenberg
Benjamin Franklin
John Deere
Wilber and Orville Wright
Guglielmo Marconi
George Eastman
Louis Braille
Eli Whitney
Leonardo da Vinci
Robert Fulton
Thomas Jefferson
Galileo Galilei
George Stevenson
Thomas Edison
Jonas Salk
George Washington Carver
Henry Ford
Alexander Graham Bell
Each comes with a brief (one page) bio and a booklet that the child fills out and adds to the lapbook. At the end is a bibliography and some enrichment pages: a book log; a book report form; a notetaking sheet using the NICK notes method; an outline form; and a narration form.
My prep for the study was to open up the PDF and print all the pages we would need to complete the lapbook. Only we don't generally do the file folder part of the lapbook. We prefer to make the booklets and stick them on paper in our binders. Also, I have my kids read the information sheets off the computer, so I don't print those pages either. I just printed the actual lapbook pages.
My test subject for this review was my eleven year old son, Daniel. He likes science and he likes hands-on learning. He enjoys the coloring, cutting and gluing that are the main parts of doing Lapbook studies.
He is more than capable of learning on his own, so I showed him the PDF and gave him the printed off sheets and let him have at it. He worked at his own pace, which wasn't always as quick a pace as say, mine, would have been. But he did get the job done. He generally chose to read one biography a day and then would fill in the booklet and stick it in his binder.
Every so often, he would come across an inventor that he wanted to know more about, so he would dig a little deeper. If we didn't have any books about that particular person, we would poke about the Internet together and learn more.
This was a fun and low-key way for him to learn about a subject that interests him but that we might not necessarily make a big deal about in "regular" school. It also gave him a chance to work on some independent learning in a low-stress way.
The Greatest Inventors is aimed at kids from second to eighth grade. Your younger kids would probably need a little more help from you than I gave my sixth grader, but they would still get a lot out of this study.
It is also easily used with groups if you wanted to include your whole family.
All in all, we feel this was an excellent lapbook and we highly recommend it!