Heirloom Audio Productions
is one of our favorite companies to review for. Lately, the boys and I have been listening, enthralled, to
Captain Bayley's Heir
.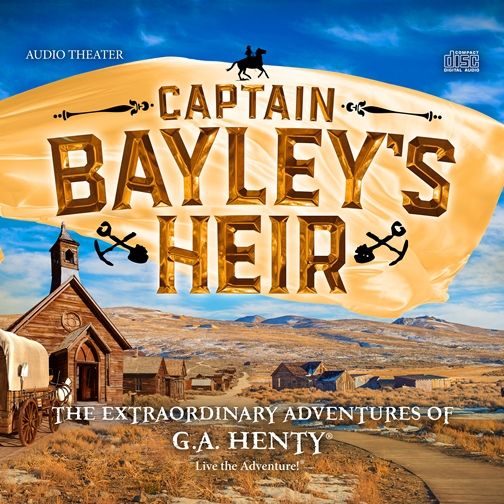 We have reviewed most, if not all of Heirloom Audio's stories, so I know I have talked a lot about what the company is and the quality of their production. They are committed to telling historical tales of inspiration while staying true to what actually happened. Their audio theater style brings history to life in an engaging and memorable way.
Audio theater is not just an audio book. You are not being read to. They use musical soundtracks and sound effects to make you feel like you are actually listening to the story unfold.
All of their stories include true events, inspirational stories and exciting adventure. Captain Bayley's Heir is no exception. Set both in London, England and California, U.S.A., the story follows young Frank Norris, who lives happily with his uncle, Captain Bayley and his two cousins, Fred Barkley and Alice Hardy.
This happiness comes to an end when Frank is falsely accused of theft. Unwilling to face the shame and possible rejection of his uncle Frank runs away to America. After working for a time for a river captain on the Mississippi, Frank decides to take his chances on the gold fields of California.
While he does find gold, he finds other things that he realizes are of far greater value: friendships; courage; wisdom; and most important of all... God's grace.
Frank's kind heart helps save the life of a fellow miner. In repayment, the miner finds Captain Bayley and, after finding out that he and Alice do believe in Frank's innocence, tells them where they can find their beloved relative.
Unfortunately, they find Frank on his deathbed. He had tried to defend a stagecoach from robbers and had been shot many times, including once to the head.
There is much more to the story, of course, but you will have to listen yourself to learn any more details! :)
Along with the CD of the story, we were given access to the Live The Adventure Club. This is where you can find all the fun little extras! There are downloads of the Cast Poster, a poster with the quote, "Amazing Grace, How Sweet the Sound...", the original ebook written by G.A. Henty, a soundtrack, and a Study Guide.
The Study Guide is a full-color, nearly forty-page, aid to helping you get more out of the story for your kids. It contains questions for each chapter of the book. There are three sections to each set of questions:
Listening Well... basic "what happened" type of questions. The answers can all be found by listening to the story.
Thinking Further... these questions expect your child to research, speculate, or draw conclusions. You can use these questions to assign papers or projects for your older students.
Defining Words... not exactly questions but more of a vocabulary builder for your child
Some examples of the Listening Well questions are:
How successful is Frank as a sailor?
What does Mrs. Hall discover as she is polishing the silverware?
Why does Abe talk about grace so much?
Some examples of the Thinking Further questions are:
Captain Bayley says that both he and Ella were to be blamed. In what ways did Ella sin? In what ways did Captain Bayley sin?
Abe says that without God's grace, "we are all savages". What does he mean? Is he right? Why or why not?
Where is New Orleans? Find it on a map. On what river does the city sit?
Defining Words is a list of words for each chapter. Words like "skeedadle", "grub", "massacre", and "harmonica".
The Study Guide also has pictures of the time period. This one was my personal favorite...


There are also sections called Expand Your Learning, which share historical facts of all kinds. For example, a very short bio of important people during the Gold Rush, an explanation of Manifest Destiny, and an explanation of Victorian money.
At the very end of the Study Guide is a short Bible study. It is divided into three parts: God's Grace; Becoming a Christian; and Honoring Your Parents.
We always love
Heirloom Audio Productions
stories. But this one, I think, is my own personal favorite. I love the theme of God's grace that is prevalent in the story. I love Abe's wisdom and Rube's expressions. I love Dickens' "burps of poetry". I love Alice's faith. I love Captain Bayley's willingness to admit when he is wrong. And I love the adventure and excitement that kept my boys hanging around.
Because the boys and I listened to the entire thing in one sitting while the girls phased in and out. Yes, the entire thing! It was that engaging.
Here is what they have to say about
Captain Bayley's Heir
:
Nate:
I liked where he shoots the robbers to save the stagecoach. I very much liked "I think your dead patient just thanked me." That was very funny! Frank was my favorite character because he did all the exciting stuff in the story. He also learned about grace and forgiveness. He learned that no matter what you do God always forgives you. I like Captain Bayley's Heir and highly recommend it to everyone!
Daniel:
My favorite part was where they got attacked by Indians and they won the fight. Dickens was my favorite character because he was so poetic. Frank learned about grace from Abe. That grace isn't something that you earn it's something that you get free from God.
I also highly recommend
Captain Bayley's Heir
to everyone!