Literature was always my very favorite subject. I love reading books and I love talking/ thinking/ writing about them. My Lit. classes in college were so much fun! Since my oldest two kids are book-lovers just like me, I knew I wanted their high-school lit courses to be just as enjoyable. So I looked high and low for a really great curriculum. But I couldn't find one. So I gave up and cobbled together my own program. And it was working well enough until...
We were asked to review Illuminating Literature: Characters in Crisis from Writing with Sharon Watson. I handed it over to Kaytie, my fourteen year old 9th grader to work on for a few weeks.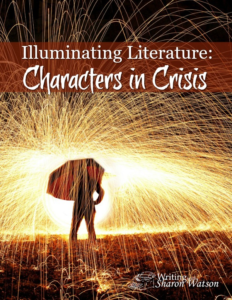 This is a high school literature course that will earn your child a full lit. credit. Your child will read five classic books, a Shakespearean play, and an assortment of short stories throughout the course. The books are sold separately but all the short stories are either in the textbook or a link is provided to an ebook.
The materials consist of:
Teacher's Manual
Student Textbook
Quiz and Answer Manual
Online Quizzes
Novel Notebook

The Teacher's Guide answers to the questions in the Student Textbook. But it also has grading guides, course objectives, a schedule and suggestions for teaching the course to a class or more informally as a Book Club.
The Student Textbook is the heart of the curriculum. It is a thick paperback book and is intended to be consumable. My daughter did not write in it, however, she hated struggling with the book and simultaneously trying to fit her answers into the too-small spaces. I think it would be a lot more conducive to writing directly in the book if it were spiral bound and she could open it and lay it flat. She preferred, however, to type her answers into the computer and send them to my email for grading.
The Textbook has nine chapters that are divided up into bite-sized lessons. Each chapter covers a book except for the chapter on the short stories, and the first chapter on one short story. There are a couple of lessons to be done before the book is read, assignments to do while reading the book, and activities to complete after reading the book. There is a suggested schedule based on a week's worth of work, not by days.
The work required is not comprehension questions, but short answer questions such as "How do the following characters respond to conflict? What does it reveal about their character?"; discussion questions such as, "Do you feel sorry for anyone in this novel?" and questions to consider in real life such as, "How can you tell if you are being deceived?" In short, questions that make your student think and write.
Literary terms and devices are taught as they appear in the novels. You can see the complete
list of what they learn
as well as other free samples of the materials on the website.
The Quiz and Answer Manual has quizzes and answers. :)
There are three quizzes for the books and two quizzes for the short stories. These are "Yes, I Read It", "Literary Terms", and the third one for the books is "Opinion Survey". These have short answers or multiple choice questions.
All of the answers are in the back of the book.
The Online Quizzes are the same quizzes that are in the book. Some people just find it easier for their student to take them online. I loved it because I didn't have to grade it! A report of the quiz was emailed to her and she would then forward it on to me. So I could easily see how she did on each quiz and quickly record it.
There are links and passwords to the quizzes in the Textbook. Kaytie found it easy to access the quizzes and she enjoyed taking them.
The Novel Notebook is a PDF download that comes with the course. It adds pizzazz to the material. The work is assigned in the Textbook and consists of fun assignments like those in the picture below. I snapped this picture before she did her work to keep her privacy.
When we started Characters in Crisis, we fully intended to use it for the review period and then set it back on the shelf for later. We were not unhappy with the course I had written and it was working well for us. So this was just going to be a short break to fulfill Crew obligations and maybe enjoy doing something different for short time. Therefore, I did not have her start at the beginning. She had just finished reading Silas Marner so I handed her the Student Textbook and said, "Do the section on Silas."
So she did. And she loved it. She was able to work mostly independently. She followed the instructions in the textbook, took the online quizzes, wrote a fun short story, and learned so much. She told me that she didn't really like or understand Silas Marner until after she had worked her way through the chapter in Characters in Crisis. The questions and quizzes, activities and information opened her mind to what the book was about and what it was trying to say. That, in my opinion, is the highest praise anyone could give a Literature course. If it helps my kid love an otherwise dull book and helps them dig interesting ideas out of a yawning brain, then it's a course I can thoroughly recommend!
The more she worked in Characters in Crisis, the more we realized this was exactly the lit course that I looked for for years. It taught Literary Terms and Devices. It taught from whole books and not excerpts. It expected deep thinking and full answers, not just comprehension and vocabulary. It engaged her, fired her imagination and helped her grasp and enjoy the themes and concepts in the books she read.
Kaytie:
I thought this was an awesome program. Sharon Watson is funny and serious at the same time. She has a gift for writing and that's part of why I enjoyed reading this so much. The work is split up into easy to handle portions. The questions that were asked made me really think about this book, and I feel like I got way more out of the book than I would have if I had just read it and written a book report on it. I especially liked the options she gave us at the end of the chapter for immersion. There were several easy, simple ones, and several harder, more challenging ones. She took multiple learning types into account: there were hands-on options, writing options, and watching/listening options. Reading each chapter was simple and fun, and I enjoyed doing the work as well. I recommend this program to anyone who wants to get more out of literature or simply likes reading.
So not only are we going to set aside what I had originally planned and do
Illuminating Literature: Characters in Crisis
instead, we will more than likely do her other course when we are finished with this one!