One of our favorite reviews is when we get products from The Pencil Grip, Inc. . This time they sent us the Thin Stix Creativity Pack.
We have used Kwik Stix before, and we love them. We were delighted to receive this set!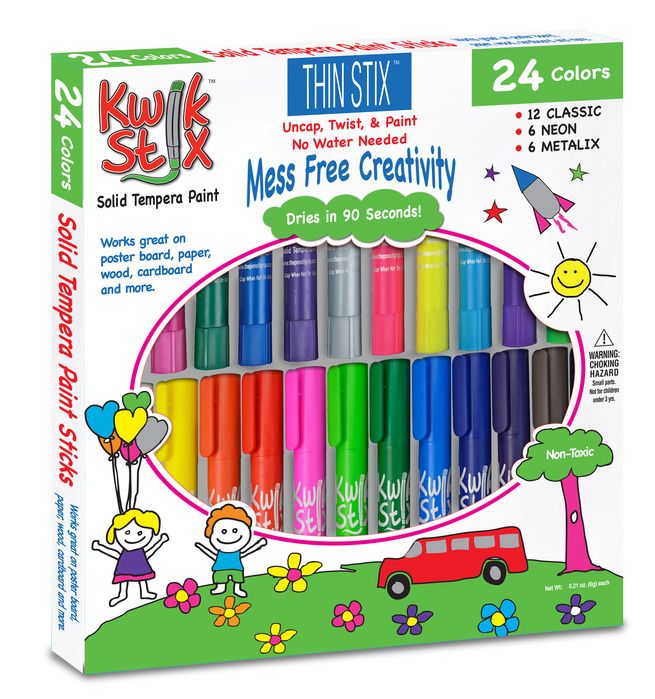 Thin Stix are the perfect solution to the problem of messy art projects. They work like a marker... you need no water and no brush. They glide on like a glue stick and like a glue stick they have the twist at the bottom to give you more when you need it. And yet, the final result looks just like a painting! So kids are happy to be able to create and moms are happy with the quick clean up.
They have a tightly fitting cap that is still super easy for the little ones to pull off and put back on.
Even though they greatly reduce the mess, kids will still have those "whoops" moments when the paint goes places it should not go. So you will be happy to hear that we had no trouble getting "whoops" out of clothing or off the table and chairs.
And that is really good news because it dries super quickly. This helps reduce the mess because as the child creates, nothing smears or wipes off on little hands.
We have used the
basic set
. We have used the
Thin Stix 6 pack
. We were excited to see that this set also included metalix and neon colors. After the kids had used them for awhile, I asked them what they thought about the new options, and they said:
The metalix are sparkly.
The neons are brighter (and in my daughter's exact words), "way cooler than all the others".
These markers are used frequently by all my kids, from the 14 year old artistic kid to the busy 3 year old who just likes to scribble. My daughters love to pull them out when they babysit. They are always a hit. The kids are pleased with their easy masterpieces and the girls like that the mess is negligible.
Here are a couple of pictures that the kids made with the Thin Stix. As you can see, fine details can be harder to pull off, but the younger your artist the less this is going to bother them.
A picture of Daniel's beta fish, George.
Abbie experimented with the metalix colors and created this copy of Starry Night. It is hard to tell in the picture, but in real life it shimmers, sparkles and glistens a little bit. The effect was lots of fun.
Thin Stix are not just for paper, either. The kids brainstormed ways to branch out a little and use the paints in different ways. Since we never got around to carving Abbie's pumpkin, she used Thin Stix to paint on it instead. She said it was so much easier than regular markers. It showed up more clearly with a lot less work.
Daniel used Thin Stix to paint this model of George. He used air dry clay to make the model and then painted after it had thoroughly dried. Compared to regular paints, using Thin Stix was a quicker, easier process. He liked that he only had to put on one layer. And, of course, way less mess!
While there fine details in your art is difficult with Thin Stix, we have been delighted with the versatility of the Thin Stix Creativity Pack. The kids have had a blast playing around with them. We all highly recommend any and all Kwik Stix products!
If you would like to win your own set of Kwik Stix, please comment on this post to enter our GIVEAWAY! Please include an email or a method of contacting you. The winner of the Giveaway will be chosen and emailed on Nov. 14th, 2017. Your physical address will be sent to The Pencil Grip.com so that your set of Kwik Stix can be mailed to you directly from them.